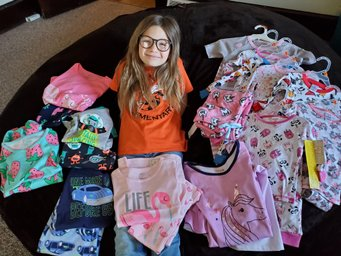 WASD Virtual Pajama Drive kicks off April 6
Julie Petersen
Monday, April 06, 2020
Dear WASD Families and Community Members,
Today, third graders at Redgranite Elementary School are going to kick off the 10th Annual Pajama Drive. Due to the current situation, the students will be holding a virtual Pajama Drive. The most successful year of the Pajama Drive was during the school year of 2016-2017 when students collected 101 sets of brand new pajamas and raised over $1,000.00 in monetary donations to aid in the purchase of additional sets of pajamas. This year, we are hoping to collect more than 200 sets of brand new pajamas for families in need here in Waushara County. All donations will be donated to the Waushara County Christmas Project.
The virtual Pajama Drive was inspired by Redgranite Third Grader, Cadence Lederhaus. While at home, Cadence has been reaching out to friends and family asking for donations for the Pajama Drive. Many of her friends and family have been shopping online and shipping the pajamas to Cadence's house. Some people have been making monetary donations and Cadence has bought additional sets of pajamas using the donations. So far she has collected 18 sets of pajamas.
Here is how to participate in the Virtual Pajama Drive:
Purchase brand new sets of pajamas online and have them shipped to your residence. Hold onto all donations until the beginning of the 2020-2021 school year. During your child's Open House in August, drop all donations off at your child's school's office.
For those of you who would like to know our inspiration behind organizing this project, please read the following explanation.
Inspiration for the 10th Annual Parkside Pajama Drive: Nine years ago, I read an article about a New York woman named Genevieve Piturro. The article said that she noticed children in shelters sleeping in their clothes because they didn't have a pair of pajamas. And she started filling a shopping bag with new sleepwear and began to hand them out to the youngsters, many of whom were abused, abandoned, or neglected. She has now started a non-profit organization called the Pajama Program. Since the Pajama Program started more than one million new pajamas have been collected across the country. This program serves children in need. Most of these children have never enjoyed the simple comfort of warm, clean pajamas. After reading her story, I decided to organize a Wautoma Area School District Pajama Drive.
The Pajama Drive will kick off today, April 6. Please help us spread the word throughout the community. Reminder: All donations will help families in need in the Wautoma area. Thank you in advance for your support!
Sincerely,
Mrs. Petersen and Students
If you have additional questions please contact:
Mrs. Julie Petersen
3rd Grade Teacher - Redgranite
Phone: (920) 566-2357 ext. 2126
petersenj@wautoma.k12.wi.us
---
Pajama Drive
When: April - September
What: Collecting new and unused pajamas for families in need in our community - please deliver any donations to your school's office in the fall once the school closure has been lifted
Where: Wautoma Area School District (Redgranite Elem., Riverview Elem., Parkside Middle School and High School)