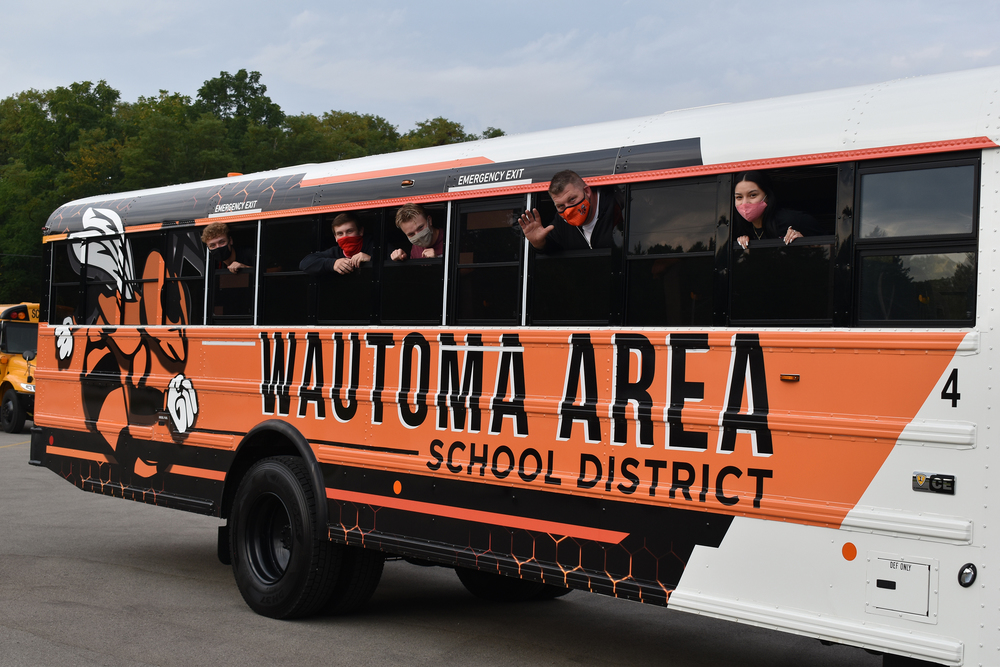 Wautoma Schools adds an extra-curricular bus to the fleet
WASD
Thursday, September 24, 2020
Seven months after the Wautoma Area School Board approved the purchase of the white extra-curricular bus, Mid-State Sales Representative Mark Rannow arrived at the bus garage on Sept. 24 to deliver the new vehicle. This 36-passenger bus features a WASD Hornet Wrap, air conditioning and luggage racks and will only be used to transport students to and from extra-curricular events and field trips.
Each year, the WASD budgets $100,000 for a new yellow bus to be added to the existing fleet, which allows the District to sell an older bus in order to keep the fleet sustainable. When approaching the Board with this proposal, WASD Administrator Tom Rheinheimer said he had met with Transportation Director David Reilly and Wenninger Auto, the District's contracted mechanic, and they felt that the oldest buses in the existing fleet still have a few good years left and this would be the best time to purchase the white passenger bus.
"We will work diligently to make this bus available for 4K students all the way up to our seniors for field trips, academic trips, music trips and athletic trips," said Rheinheimer. "We are excited for our students to travel inside and outside of our community in a vehicle that reflects their strong pride in our school district "
According to Rheinheimer, the passenger bus is a one-time expense and also helps to brand the District. The bus garage will be working with each of the schools in order to create a schedule to allow for all of the groups to have an opportunity to use the new bus to travel to events.